Videos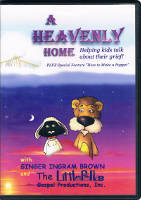 A Heavenly Home DVD: Helping kids talk about their grief!
by Ginger Ingram Brown
Kids join Ginger in the "Breadhouse" for talk and activities to explain their grief. The added feature "How to Make Puppets" is a fun craft puppet for children. For more information see A Heavenly Home.
Free shipping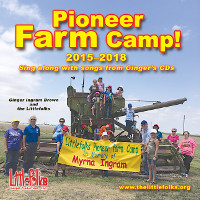 Pioneer Farm Camp! 2015-2018
Ginger Ingram Brown and the Littlefolks
Watch camp pictures and videos while singing along with songs from Ginger's CDs. This DVD has three videos, each using pictures and videos from different camps.
2015 – Christian Cowkids (3:01)

2016 – Be Strong & Have Courage (18:53)

Be Strong and of Good Courage
I've Got My Ticket

Special Prizes
I Feel Like Praising

2017 & 2018 – Jesus Is My Rock (8:29)

There Were Twelve Disciples
The Old Rugged Cross

Psalm 19:14
Edited by David Huddleston, DJ Photography & Videography
Free shipping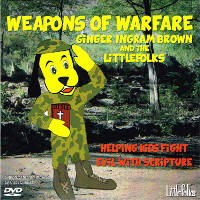 Weapons of Warfare
This DVD was recorded live in Norman, Oklahoma, during a Kids' Crusade. It gives a broad overview of what a Kids' Crusade is like. This video is also signed for the deaf.
Free shipping