Books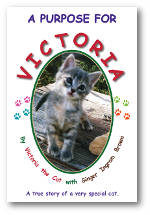 A Purpose for Victoria: A true story of a very special cat
by Ginger Ingram Brown
Based on the life of a disabled farm cat. You meet her family and friends as you learn about her many trials, told with a positive attitude. Children and adults love Victoria's story! More information
44 pages, softcover, 6 x 9 in.
Free shipping
Contact Us for bulk prices.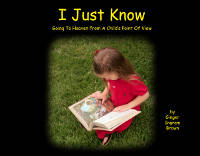 I Just Know: Going to Heaven from A Child's Point of View
by Ginger Ingram Brown, photos by Dwight Ferguson
Simple to read! Deep in truth! Adults love it, too! "Beautiful to look at, it's inspiring to read, too." "This is the book we were looking for," said a hospice director who already uses A Heavenly Home DVD and Activity Book. More information
24 pages, hardcover, 11 1/4 x 8 3/4 in.
Price: $10.00
S & H: $3.95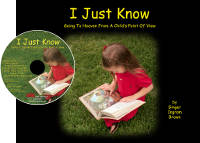 I Just Know with CD
The book plus a read-along CD
Listen as Ginger Ingram Brown tenderly reads this precious book, with page turn signals. If you're not able to read I Just Know to your child every time they want to read it, they can still enjoy the book. Two songs are also included, which are sung by Ginger and some of the puppets. More information about the CD
24 pages, hardcover, 11 1/4 x 8 3/4 in., plus read-along CD
Price: $12.00
S & H: $3.95

A Heavenly Home Activity Book: Helping Kids talk about grief!
by Ginger Ingram Brown
This is the companion book for A Heavenly Home DVD, but it can be used alone. More information
Free shipping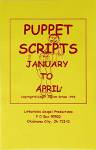 Puppet Scripts
This book contains 15 scripts. Each one is 5 min. or less in length, short, to the point, and entertaining.
15 pages
Free shipping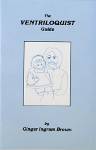 Ventriloquist Guide Book
Learn how to be a ventriloquist. Included are details for lip control and voices, plus practice exercises and more.
13 pages
Free shipping