School & Community Programs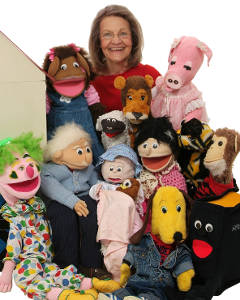 In the Littlefolk school and community programs, we teach character building skills with puppets.
Littlefolks are all different.
Some are old!
Some are new!
Some are different!
Some are like you!
We care about each other and about you, too!
We talk about:
Overcoming fear
Respecting others
When to be bold
Laughing

at

yourself
Laughing

with

others, not at them
Truth? ¿Verdad?
When

not

to believe what friends say
Building good character helps build a good home, school, neighborhood, and world!
Ginger is a former school teacher. She left her classroom after teaching eight years in public school, and developed characters that delight both children and adults with their songs and stories. She travels nationwide, as well as in many foreign countries. She has made many guest television appearances in the US and Canada.
To schedule a program in your school or community contact Ginger.