Littlefolks Gospel Productions, Inc.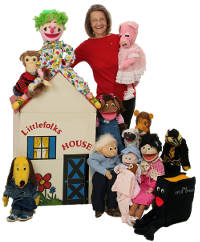 Littlefolks Gospel Pro­duc­tions, Inc. is a ministry committed to helping kids. One of our greatest goals is to help them learn Bible scriptures. Our ma­te­ri­als also help children deal with challenges, including grief, friend­ship, and learning re­spon­si­bility.
With puppets and music we produce live presentations, CDs, DVDs and books. Presentations and materials are primarily written by Ventriloquist Ginger Ingram Brown, founder of Littlefolks Gospel Productions, Inc.
Ginger has been featured on many TV programs and traveled nationwide, as well as internationally. Her Western Kansas farm heritage, public school teaching experience, and faith in Christ are her foundational pillars.
Incorporated as a 501(c)(3) organization in 1986, all donations are used to finance Littlefolks productions and travel activities. All board members are professional people of different church affiliations.
Please contact us if you have any questions.
Our U.S. mailing address is:
Littlefolks Gospel Productions, Inc.
P.O. Box 4168
Wichita Falls, TX 76308
Fun Run Through the Bible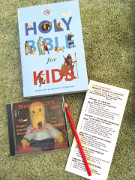 I am very excited about our new program for kids to read their Bibles! Children do need an adult to walk (or run) with them through this plan and make it happen through the year. Please see Fun Run Through the Bible for more information.
And I thank Christ Jesus our Lord, who hath enabled me, for that he counted me faithful, putting me into the ministry. I Timothy 1:12