Audio Media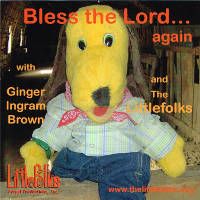 Bless the Lord … Again
Children's Church Songs
Bless His Holy Name
The Old Rugged Cross
The Happy Christian Song
It's in the Book
The Books of the New Testament
There Were Twelve Disciples
In the Garden
When Jesus Comes
How Long Has It Been
Jesus Loves the Little Children
Down at the Bottom of the Well / Windows of Heaven Are Open
Matthew 19:17
Medley
The Books of the Old Testament
You Gotta Say "No"
The Ninety and Nine
These songs were recorded in the '70's by children from Hugoton, Kansas. Their parents faithfully brought them for practice, and then drove many miles to record with me in Oklahoma City.
I am reminded that life is very short when I listen to the little voices that are all grown up now. These families blessed me and I appreciate them. Together we continue to Bless the Lord with the singing we did when we were all very young.
Ginger Ingram Brown
Free shipping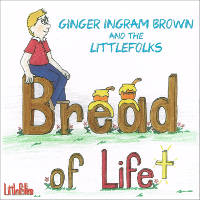 Bread of Life
Ginger, children, and others exalt Jesus!
Come Join Us at the Bread House, Ginger
Let's Praise Jesus, Ginger
Pharisee Bread, Ginger
For by Grace, Ginger
The Gift of God, Ginger
Philippians 4:8, music by Ginger
Sweeter as the Years Go By, Mrs. C. H. Morris
Resurrection & Life, Ginger
Let Us Not Grow Weary, Ginger
Behold, Behold, Mrs. N. R. Schaper
I Am a Bread House, Ginger
Bread for the Hungry, Naomi Goss
They'll Be Going Through the Clouds, Ginger
After recording the salvation prayer, prayed by Michael, musicians immediately echoed, "It's a take!" We all agreed he was anointed of God! When Michael was a teen he was in an accident and is now in heaven. Listening to this I am always comforted. There is no doubt; he loved Jesus!
Free shipping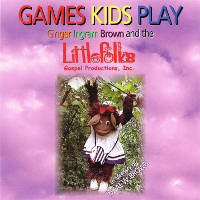 Games Kids Play
Scripture-Based Songs
Hide 'n Seek (3:24)
Colossians 3:3 (2:14)
Home Free (3:00)
God's Got Your Number (1:42)
I'm Not Ashamed of the Gospel (2:11)
Do What? (2:33)
Be Strong and of Good Courage (2:40)
One Little Word (2:44)
It's OK to Be Different (3:09)
I've Got My Ticket (2:22)
Hallelujah (3:25)
In Memory of Noal W. Brown
This project began in 1993 and Noal agreed for the first time to record with me. The song he helped write and sing is "Home Free," a song about Heaven. Little did we know that he would soon be there.
Packed with the Holy Scriptures, this is a tool ready to help children memorize the Word of God.
Free shipping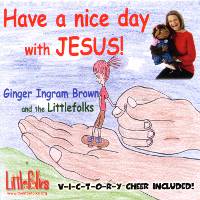 Have a Nice Day with JESUS!
Children's Church Songs
Littlefolks (1:00)
Walking & Leaping (2:51)
Psalm 19:14 (1:29)
New Life (2:42)
I've Been Redeemed (5:04)
Things He Whispers (2:15)
Have a Nice Day (2:35)
Twelve Spies (4:12)
Grumblers (1:35)
Victory Cheer (1:49)
Children Obey Your Parents (2:01)
My Tribute (2:47)
Littlefolks (0:45)
"Victory Cheer," recorded on this CD, has become the Littlefolks' theme song. J‑E‑S‑U‑S really is the very BEST, and I hope you will "Cheer" with us as you sing along!
Free shipping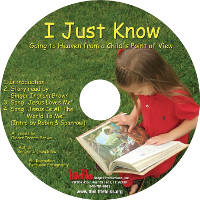 I Just Know CD
A lovely reading of the book by Ginger Ingram Brown
Listen as Ginger Ingram Brown tenderly reads this precious book, with page turn signals. If you're not able to read I Just Know to your child every time they want to read it, they can still enjoy the book.
The Introduction gives an overview of the book and explains the page turn signals. Two songs are also included, which are sung by Ginger and some of the puppets.
Don't pass up this wonderful supplement to the book!
Introduction (1:51)
Story read by Ginger Ingram Brown (3:38)
Song "Jesus Loves Me" (2:13)
Song "Jesus Is All the World to Me" (2:32)
Free shipping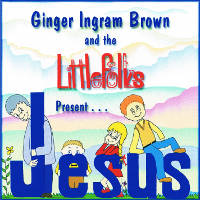 Present … Jesus
Original and Traditional Bible Songs
More Than a Miracle Maker, Ginger (3:07)
He Is Your Friend, Ginger (4:03)
It's Just Like Jesus, Strouse (2:52)
I Love to Tell the Story, Fisher (4:02)
I Peter 3:14, music Ginger (1:47)
Watch Your P's & Q's, Ginger (1:43)
Many Mighty Men, Ginger (1:49)
I Will Sing, Bomer /
I Can Run Through a Troop, Psalm 18:29, Music unknown (4:44)
Peter, Do You Love Me, Ginger (1:55)
Don't Laugh at the Poor, Ginger (3:09)
Special Prizes, Ginger (2:44)
I Feel Like Praising, Unknown
Chants, Ginger (1:45)
Jesus, I Heard You Had a Big House, Gather ASCAP (1:28)
(In Memory of Rona Dykes)
These children were students at a small Christian school in Chandler, Oklahoma. They are all grown up, but I still remember them as my "Littlefolks."
Free shipping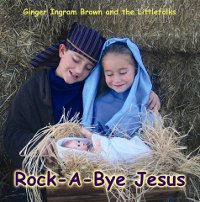 Rock-A-bye Jesus
Christmas Music with Short Dialogs
Rock-A-Bye Jesus
I Love to Tell the Story
Jingle Bells
Mary's Boy Child
Christmas Song
Come with Me
His Little Lamb I Am
Hark the Herald
When Jesus Comes
Christmas has become so commercialized that it's easy to forget the great Gift God gave us on Christmas Day. On this CD Ginger and the Littlefolks remind us what Christmas is all about in narrative and song.
Free shipping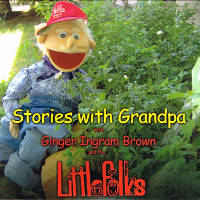 Stories with Grandpa
and Ginger Ingram Brown plus The Littlefolks
Two stories with music, in which Grandpa Anderson helps Elliot learn some important lessons.
"Trick or Treat" (13:08) was written to help children understand what Halloween is really about.
"Sacrifice of Praise" (12:30) is a Thanksgiving story in which Elliot learns to thank God even when he doesn't feel like it.
Free shipping