Free Music
For December we are sharing a song from the Rock-A-Bye Jesus CD. Click the title to play the MP3; it is ©Littlefolks Gospel Productions, Inc. May you be blessed as you listen!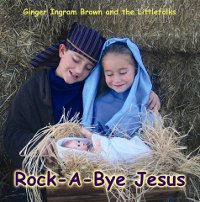 Rock-A-Bye Jesus
Ginger teaches Lamkins and Linus that the Christmas story is true and not a fable in "Christmas Song" (3:18).
You may also buy the complete CD.