Free Music
This month we are sharing a song from the Bread of Life CD. In this CD, Ginger, the Littlefolks, and others exalt Jesus! Click the title to play the MP3; it is ©Littlefolks Gospel Productions, Inc. May you be blessed as you listen!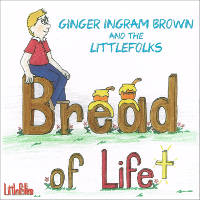 Bread of Life
In "I Am a Bread House" (2:49), Ginger and the Littlefolks help two children figure out where Jesus is when He comes to live in our hearts.
You may also buy the complete CD.