Free Music
This month we are sharing a song from the Games Kids Play CD. In this CD, Ginger and the Littlefolks sing a variety of scripture-based songs. Click the title to play the MP3; it is ©Littlefolks Gospel Productions, Inc. May you be blessed as you listen!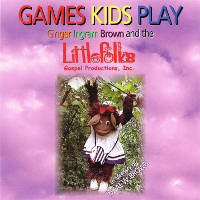 Games Kids Play
In "It's OK to Be Different" (3:09), written by Ginger's good friend Janet Johnston, Ginger, Lamkins, Linus, and the Littlefolks remind us that each of us is special and unique. We were all created in the image of God, yet we are VERY different.
You may also buy the complete CD.