Free Music
This month we are sharing a song from the Bless the Lord … again CD. In this CD, Ginger and the Littlefolks sing a variety of traditional and new Children's Church songs. Click the title to play the MP3; it is ©Littlefolks Gospel Productions, Inc. May you be blessed as you listen!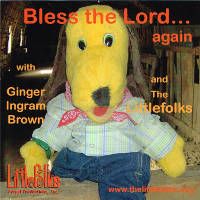 Bless the Lord … again
At camp this year we worked on learning "There Were Twelve Disciples" (1:08), which teaches the names of Jesus'disciples and reminds us that we are also called to be His disciples.
You may also buy the complete CD.