Free Music
This month we are sharing a song from the Have a Nice Day with JESUS! CD. In this CD, Ginger and the Littlefolks sing a variety of traditional and new Children's Church songs. Click the title to play the MP3; it is ©Littlefolks Gospel Productions, Inc. May you be blessed as you listen!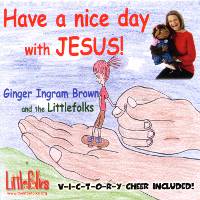 Have a Nice Day with JESUS!
"Have a Nice Day" (2:35) is a popular song that is frequently requested. Cheerful and upbeat, it reminds us that "when you've got the Lord he'll make your load a lot lighter."
You may also buy the complete CD.