The Littlefolks Farm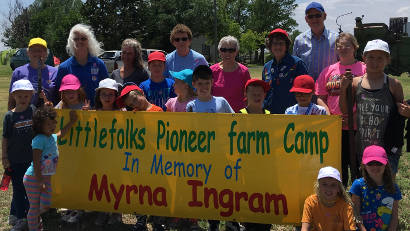 CAMP 2023? Ages 5--11! Are you interested? Let us know! No date definite yet!
The Littlefolks Farm is dedicated to the memory of Myrna Ingram, Ginger's mother, who worked hard to keep the farm after Ginger's daddy died.
After several years of prayer, the Littlefolks Pioneer Farm Camp had its first session in 2013, and it continued every year through 2019, took 2020 off due to Covid-19, and resumed in 2021.
See the Photo Gallery for pictures from the 2021 and 2019 camps, and see our YouTube channel for short videos of the 2015 and 2016 camps. We also have the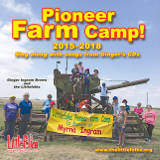 Pioneer Farm Camp! 2015-2018 DVD, which contains the 2015 video, the complete 2016 video (YouTube only has excerpts), and a 2017 & 2018 video.
The camp begins at 2 PM MDT on Thursday and runs until 3:30 PM Saturday. The children worship God, stay in tents, make crafts, play games, have "chores", and learn how the pioneers lived. Chores represented work on a farm, but the children seem to enjoy these as much as the games and crafts. Adults help with each activity and stay in the tents with the children at night.
Thank you for praying for the Littlefolks Farm. We felt your prayers more than once!