A Purpose for Victoria: A true story of a very special cat
written and illustrated by Ginger Ingram Brown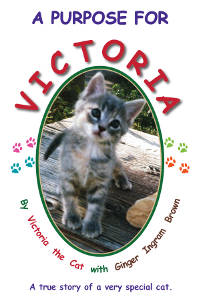 44 pages, softcover, 6 x 9 in.
Free shipping
A Purpose for Victoria is the story of a real cat searching for her purpose in life. Written for children, this delightful book will charm young and old alike. Victoria tells her story herself, though sometimes she forgets details and asks Ginger for help.
Disabled when very young, the veterinarian says she will not live long. Victoria doesn't understand what that means. Ginger talks to her on the way home, explaining that she can have victory over any handicap she has. "Victoria means victory," Ginger explains, and decides that should be her name.
Anyone with a disability can relate as this kitten gets left behind, scoots until she can finally hop, and is mocked and called silly names. Those in grief will most likely laugh and cry as she explains her encounters with death and family departures. All will laugh when she wants her aunt to take piano lessons and is surprised that God loves sparrows, whom she considers just "cat food."
Victoria loves to hear about her Creator from her friend Ginger, and is excited that handicapped children will have no trouble walking in heaven. "But what about me?" she wonders. Ginger explains the Bible and God's love for children and pets.
About the Author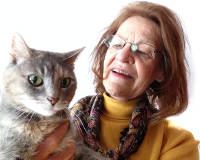 Ginger Ingram Brown, ventriloquist and recording artist, created the line drawings and is author of two other books: I Just Know: Going to Heaven from a Child's Point of View, plus A Heavenly Home Activity Book that is companion to the DVD A Heavenly Home. The DVD also explains grief feelings and how to work through them using puppets and children's activities.