I Just Know: Going to Heaven from a Child's Point of View
written by Ginger Ingram Brown, photography by Dwight Ferguson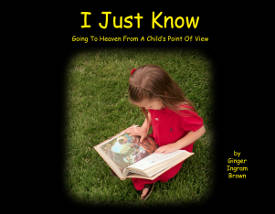 This is a beautiful book for any child (or adult) who has lost a loved one, who is facing a life-threatening illness, or who is struggling with questions about death. Or who simply enjoys a good, Biblically based children's book!
A young girl thinks of how her father carries her home when she falls asleep while her family visits friends. She's not aware of it until she wakes up the next morning in her own bed. Her father tells her that it will be like that when we die. We'll fall asleep, then Jesus will carry us to Heaven. This explanation reassures her. Closing with John 3:16, this book points us to the Bible to answer all our questions about life as well as death.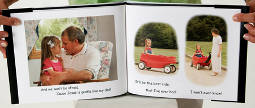 Illustrated with beautiful photos by Dwight Ferguson, this lovely read-aloud book will charm adults and children alike. It would make a wonderful gift for someone you love!
24 pages, hardcover, 11 1/4 x 8 3/4 in.
Price: $10.00, S & H: $3.95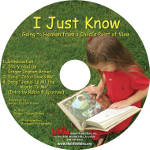 Read-along CD
Listen as Ginger Ingram Brown tenderly reads this precious book, with page turn signals. If you're not able to read I Just Know to your child every time they want to read it, they can still enjoy the book. Two songs are also included, which are sung by Ginger and some of the puppets. Free shipping.
Buy the book and CD together. Price: $12.00, S & H: $3.95
Ginger's comments
After hearing a quote by Billy Graham saying that going to heaven is like a sleeping child being carried by a loving father, this story began forming in my heart. When it hit paper it was too easy to say that I wrote it. "I Just Know" that the Father has much to do with this book. People are reading it once and buying more to give.
A publisher said, "This is a story that all ages need. Many adults lie in hospitals afraid to die."
About the Author
Ginger Ingram Brown is a teacher, ventriloquist, song writer, recording artist, author, and producer of children's musicals and puppet productions. Her many voices may be heard on CD and DVD.
Ginger has traveled nationwide, as well as to many foreign countries, working with churches, schools, and missionaries.
Another production, A Heavenly Home DVD and Activity Book, helps kids deal with grief. She has been volunteering for hospice family camp for the last several years.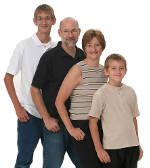 About the Photographer
Dwight Ferguson, Ferguson Fotography, along with his wife Marlene and sons Adam and Jarod, have a family business in downtown Hutchinson, KS. They are involved with helping people. It doesn't take long to see that their professional work in Ferguson Fotography is not just business, but also ministry.